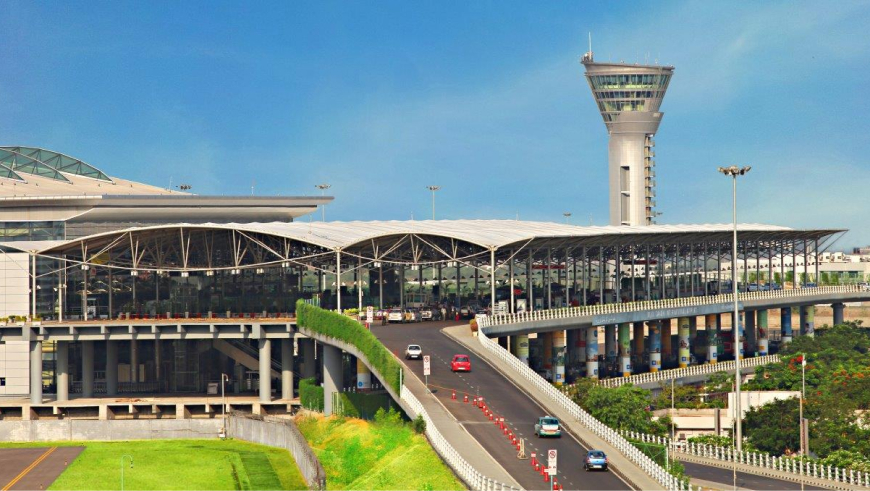 The Hyderabad Airport is the 4th busiest airport in India in terms of passenger traffic. For businesses looking to increase their brand visibility, the airport presents an ideal opportunity to reach a diverse and captive audience.

What does Hyderabad Airport offer you? Here is something you should know:
Varied availability of media sites – The Hyderabad airport has been designed in such a manner that it offers you a plethora of strategic media sites. The passenger audience is shown different media assets that do not create a hindrance but come as an engaging piece of content. Given the technology penetration and advancement at the airport, brands can choose to display feature videos, animations, or interactive content that will engage passengers and create a lasting impression.
Branding opportunities – At the Hyderabad airport, you could see mammoth avenues to display your brand. Be it branding on larger than life media assets, or digital screens, you could tap the potential of any media asset. By utilizing these assets, you can create a strong visual impact and make your brand spearhead in the competitive landscape. Did you know anyone who advertises at the airport, the ad is visible to 70,000 premium passenger audience (per day)? Unlike ad media assets available outside, brands get new audiences everyday at the airport. You have a lot waiting for you at the RGIA!
Common entry and exit area – At the Hyderabad airport, you will find a common entry and exit area for both international and domestic audiences. This leaves you with an opportunity to cater to the audiences without missing out on any. In fact, the number of passenger traffic remains the same across the location so neither there is any distraction nor any diversion.
When you advertise at Hyderabad Airport, you get a unique opportunity to reach a captive audience and increase brand visibility. By utilizing the various branding opportunities available at the airport, and creating a unique brand experience, businesses can meet their branding goals and create a lasting impression on passengers.
With expansion work in progress, the airport is expected to handle an annual capacity of 36 Million domestic and international passengers (from 22 Million at present). In addition, there will be more direct flights for international journeys, marking Hyderabad an International Transit hub.
Guess what is coming up next!
● 154 Check In-counters
● 34 aerobridges
Plans for the expansion have been in execution for a good period now. The first phase of expansion in November 2022 introduced a total of 11 gates (5 additional gates were added to the already 6 gates) for passengers to enter the terminal (catering to domestic and international passengers) and 4 new belts catering to international passengers. You can also find new check-in counters for international passengers.
Furthermore, expansions have taken place in:
Domestic departure section with 5 new departure aerobridge gates
Domestic/international baggage area – additional 14 conveyor belts
Entry for international departure as per the domestic departure
Common domestic arrival pathway catering to the passengers arriving from bus gates and aerobridges
At the airport, the media sites have been placed in locations that have high visibility. As a matter of fact, they do not act as hindrances and also, they are clutter-free. The ambiance is nothing short of a delight to the eyes, hence making ads a cherry on the cake. With varied media asset sizes, strategic asset placement, and high visibility, several major brands are looking forward to investing in their branding.
The above expansion will help brands have more scope for powerful and compelling advertisements. Hyderabad airport is the destination for branding. Are you here?